李达谅
Email:daliangli@fjnu.edu.cn 或lidlbhl@163.com;
QQ: 11274791
个人简介:男,福建泉州人,教授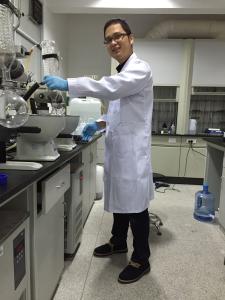 教育经历:1996年9月至2005年7月,中国科学技术大学化学系学习,先后获得化学学士学位和有机化学博士学位
工作经历:
2005年7月至2007年7月,上海有机化学研究所生命有机国家重点实验室博士后研究;
2007年8月至2014年,美国得州大学西南医学中心,博士后、Instructor、Research Scientist;
2014年9月至今,福建师范大学生命科学学院工作;
研究方向:应用化学或生物探针研究细胞行为及在糖尿病、癌症诊断治疗中的作用等;天然产物的提取及生物学研究;
成果及奖励:近年来,先后参与国家自然科学基金重点项目1项、主持教育部留学归国人员科研启动基金项目1项和福建省自然科学基金面上项目1项,参与"福建省天然免疫生物学重点实验室"建设项目等多项科研课题;在《Proc. Natl. Acad. Sci. USA》、《ACS Chem. Biol.》、《Bioconjugate Chem 》等刊物上以第1作者(或通讯作者)发表多篇论文,其他SCI论文10篇(与他人合作); 另有美国/国际授权一份。
教学:担任本科生《化学系列实验》、《天然产物与药物化学》等课程主讲任务。
硕士生招生方向:生物化学与分子生物学、遗传学和有机化学等。
论文专利:
1.Imaging dynamic insulin release using a fluorescent zinc indicator for monitoring induced exocytotic release (ZIMIR), Daliang Li, Shiuhwei Chen, Elisa A. Bellomo, Callan Kaut, Guy A. Rutter and Wen-hong Li*, Proc. Natl. Acad. Sci. USA, 2011, 108 (52),21063-21068.
2.Genetic targeting of a small fluorescent zinc indicator to cell surface for monitoring zinc secretion,Daliang Li, Lin Liu, Wen-hong Li*, ACS Chem. Biol., 2015, 10 (4), 1054-1063.
3.GLP-1 receptor mediated targeting of a fluorescent Zn2+ sensor to beta cell surface for imaging insulin/Zn2+ release, Daliang Li, ZhiJiang Huang, Shiuhwei Chen, Wen-hong Li*, Bioconjugate Chem., 2015, 26 (8), 1443-1450.
4.FLUORESCENT PROBES FOR MONITORING REGULATED SECRETION, Wen-hong Li*, Daliang Li, Curr. Opin. Chem. Biol.,2013, 17(4), 672-681.
5.ADCY5 couples glucose to insulin secretion in human islets, Hodson, David; Mitchell, Ryan; Marselli, Lorella; Pullen, Timothy; Gimeno Brias, Silvia; Semplici, Francesca; Everett, Katy; Cooper, Dermot; Bugliani, Marco; Marchetti, Piero; Lavallard, Vanessa; Bosco, Domenico; Piemonti, Lorenzo; Johnson, Paul; Hughes, Stephen; Li, Daliang; Li, Wen-hong; Shapiro, A.M.; Rutter, Guy*, Diabetes, 2014, 63: 3009-3021.
6.Lipotoxicity disrupts incretin-regulated human β cell connectivity, David J. Hodson*, Ryan K. Mitchell, Elisa A. Bellomo, Gao Sun, Laurent Vinet, Paolo Meda, Daliang Li, Wen-Hong Li, Marco Bugliani, Piero Marchetti, Domenico Bosco, Lorenzo Piemonti, Paul Johnson, Stephen J. Hughes, and Guy A. Rutter*, J. Clin. Invest., 2013, 123(10), 4182-4194.
7.ZINC SENSOR FOR CELLULAR IMAGING, Wen-Hong Li*, Daliang Li, US2012009617 (A1);WO 2011/156728 A2/A3; US 8,530,183 B2.
8.Frequency-dependent Ca2+ accumulation regulates mitochondrial ATP synthesis in pancreatic b-cells, Andrei I. Tarasov, Francesca Semplici, Daliang Li, Rosario Rizzuto, Magalie A. Ravier, Patrick Gilon, and Guy A. Rutter*,PFLUG ARCH EUR J PHY, 2013, 465(4), 543-554